825 S. Church St.
Asheboro, NC 27203
(336) 626-RAMP (7267)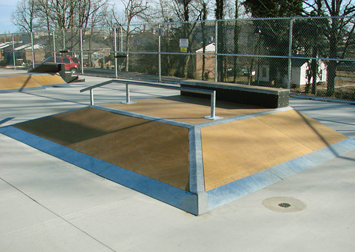 Hours of Operation:
August 16th - June 14th
June 15th - August 15th
Monday-Saturday 10am-7pm
Fees:
During supervised hours, admission is $1.00 with Rec Card or $2.00 without

15 Admission Pass is $10 with Rec Card or $25 without

1 year Unlimited Pass is $150 with Rec Card and $300 without
Equipment for Rent (during supervised hours):
Elbow pads - $1.00
Knee pads - $1.00
Helmet - $2.00
Combo of all three items - $3.00
General Information:
The park is located adjacent to Memorial Park, located at 825 South Church Street in downtown Asheboro. The park is a combination indoor/outdoor facility. With over 2,500 sq. ft. of interior and 7,500 sq. ft. of exterior space, there are 10,000 sq. ft. of skating surface! In addition to the office, there is an indoor viewing area with bleachers, concessions area, lockers, new restrooms, a party room (Click here to rent) and an outdoor viewing area.
Skate features:
Half pipe (located indoors)

Square rail

Grind box with steps

Pyramid with grind rail and spine

Pyramid with steps

Quarter Pipe/Flat Bank Combo

1/4 Pipe off back of 1/2 Pipe

Roll in with Flat Bank

Round Rail
The Following Equipment is required – No Exceptions!
Appropriate Helmet

Elbow pads

Knee Pads
Failure to wear the appropriate equipment and follow the posted Rules will result in ejection from the facility.